---
Description
Electric Ultrasonic Beer Bubblers Beer Foaming Machine Special Purpose for Bottled Beer Foam with Cup
【LATEST FROM LUOOV】– Material:Food-grade ABS plastic,LUOOV newest model boasts patented Micro-Foam technology, Cup type for accommodate all bottle/cans. The bubbles will pop up like a magic after setting the beer on top of the Beer Foamer.
【ENHANCE YOUR EXPERIENCE】 – LUOOV B183S converts any beer's natural carbonation into uniformed sized bubbles we call Micro-Foam that delivers enhanced aroma, flavor, and mouth-feel.
【WORKS WITH ANY BEER】 – Accommodates all cans and bottles,any type of beer, including lagers, stouts, IPAs, sour beers, and more.
【CONVENIENT POWER】– LUOOV B183S utilizes a convenient USB cord and wall adapter or 2 AA batteries, making it convenient enough to take out camping, tailgating, to the beach, or out on the patio.
【Lead the trending of drinking beer,enjoy your life】Ideal for happy hours,gatherings,business meetings, bars and other entertainment and dining Venues.Perfect gift for Thanksgiving,birthdays,Father's Day,Mother's Day and more.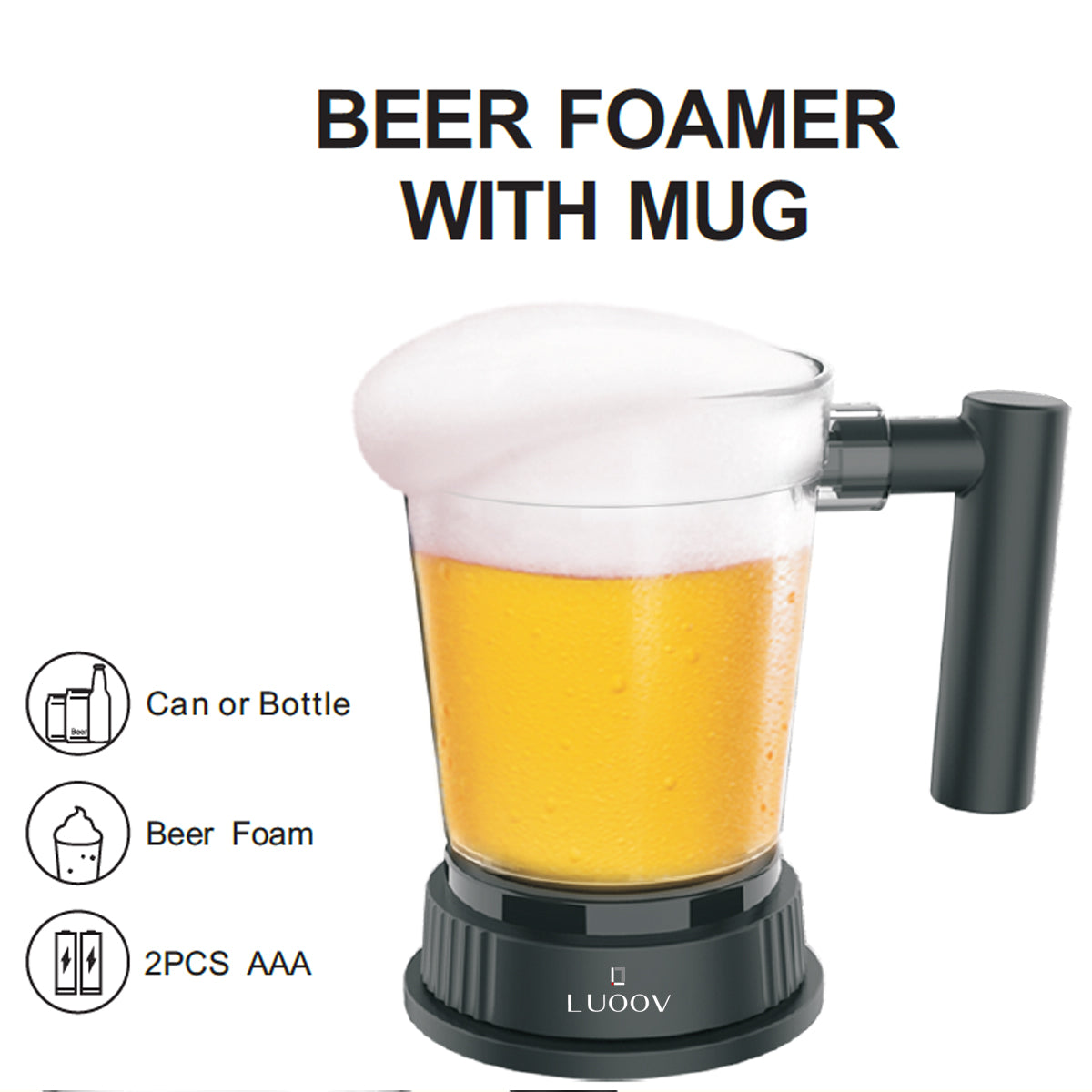 ---
A must have for beer lovers!!
Having this at home is a GAME CHANGER. It's so fun and my husband and I seriously can't get enough of this. It's basically a fully functional bar at home, and the foam option (when pushing the lever away from you rather than towards you) is amazing, creamy foam and delicious cold beer. It also has two internal freezable packs that basically keep you beer ice cold, best addition for beer lovers and parties!!
AMAZING ITEM
This Dispenser is amazing, it does what it says and it does a great job, I made a mix drink and it came out well :-) This is the right item for a party so if you want to make mix drinks get this and enjoy it!!
This thing is great
It is fantastic. Whatever magic is in this little machine transforms any beer to taste like it is nitro. It intensifies the flavor while reducing the prickliness of typical carbonation, giving the beer a creamy texture. And it works with any beer, regardless of size or shape of the can/bottle. For clean up, you just run a glass of warm water through it when your done and let it dry. Takes 10 seconds. Highly recommend.
This really works, the taste difference is amazing.
This beautiful, sleek machine was a gift for my husband for our 29th Anniversary. He absolutely loves it, so easy to operate, we poured the first beer seconds after we took it out of the box. It makes any beer, from lights to IPA's taste draft fresh. We gave our friend a glass and after 1 sip he ordered one for his son. I've used it for cold white wines and it aerates them perfectly. We even ran root beer through it for the kids and they loved it. So happy we saw this on shark tank.
A must have for all beer lovers
Love this product, best purchase in a while!