---
Description
Portable Bidet Travel Sanitary Handheld Bidet Water Bottle Sprayer Irrigator Bum Gun Butt Washer Shattaf Bidet Toilet Wash Kit, No-Toilet Paper System, Orange 500ML.
[Portable] Handheld size, easy to carry. Perfect for personal care hygiene refresher at home, office, on vacation, travel, puerpera and more.

[Practical] 60 degree angle nozzle meets the principles of human engineering and easy to clean. Providing a more soothing cleaning experience for sensitive areas.

[Durable] No power, no battery needed. Ergonomic soft squeeze bottle in durable material is a great economical alternative to expensive & bulky electronic bidets.

[Versatile] Suitable for routine cleaning, including cleaning female private parts and after defecation of pregnant women, cleaning and nursing of wounds after childbirth and operation or hemorrhoids, changing and cleaning baby diapers, washing hair, etc.

[Eco-friendly] Through Portable Handheld Bidet cleaning, it can reduce toilet paper use and save money on toilet paper. Also cleaning with our bidet is friendly to the environment and saves your health right away.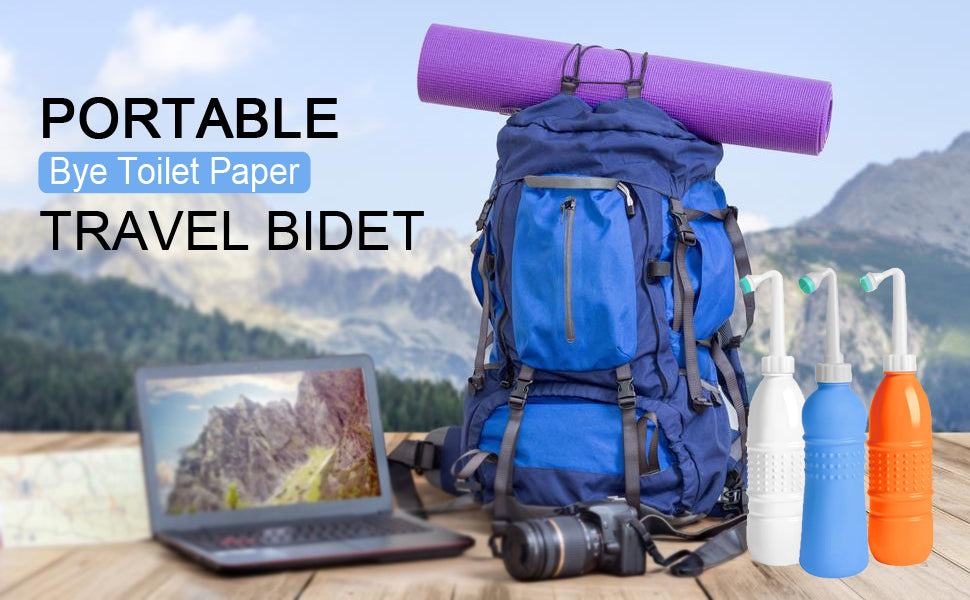 Portable Bidet | Travel Sanitary
Portable bidet bottle sprayer is the perfect hygiene solution for unisex. Portable bidet is a easier and more effective way to refresh yourself after a bath/toilet use than toilet paper while providing a more soothing cleaning experience for sensitive areas. It can be equipped with warm water, and makes personal care cleaner and easier.
Durable:Choose LDPE material for better elasticity and pressure safe, healthy and beautiful.

Safety:60 degree angle nozzle meets the principles of human engineering and easy to clean.
Practical:Non-slip bump design prevents slipping during washout. No power, no battery needed.
Portable:Handheld size, durable bottle with travel pouch, lightweight and easy to carry.

ECONOMICAL:Stop wiping with expensive toilet paper, start washing with our personal handheld bidet for saving paper, saving money, saving your bum. The most important, it's friendly to the environment!

FOR:
Postpartum Care
Elder people
Surgery Recovery
Travelling & Camping

Item Name:Portable travel bidet
Color:Blue /Orange /White /Pink /Green
Material:Silicone + ABS + PC
Capacity:500ml
Size:156X47mm
Weight:0.37lbs

---
OMG! this was amazing
We went and camped in the smoky mountains for a week. The campgrounds there have no showers. I used this, a shower tent, a 6 foot chunk of 3/4 inch pvc pipe (for a shower head holder) and a 27 gallon storage tub. There was potable water there. So I filled up the tub, then took 5 gallons out and heated it up in a propane turkey fryer. This worked flawlessly. Plenty of water comes out, it runs at a decent pressure, overall I was thrilled with this. how long will it last? no idea, but i made it through 3 showers a day over a week, so at least 21 showers. lol
Really the 27 gallon tub was overkill, after 3 showers we only used about half the tub. seems like it does a bit less then a gallon a minute.
I wish the cord was a bit longer, maybe add a foot to it. But it was fine.
Wonderful product!!!
The product is amazing!! My relative recently had surgery so the bidet bottle has been extremely helpful.
The bottle is extremely easy to use.
The softness of the bottle allows the water to come out with force and precision.
I've had the bottle for almost a month and use it everyday, several times a day and the material looks sturdy and durable.
Very happy with my purchase.
I would highly recommend this product.
Pressure was adequate for task at hand
Being a man, of course I did not read the instructions. So....it took me a while to realize that the water goes in the colored case and screws onto the white unit.
There is a high and low setting. I just used high. Could have been better pressure, but overall it did the job. Wish it held more water. Had to refill the water container once. May consider getting an old water jug and keeping it in my locker. Nice thing you can use the temperature of water you want.