---
Description
▶2020 Upgraded Version: Come with USB rechargeable 2200mAH battery, separated from the pump. External on/off switch feature, which is an improvement over previous design.No need to immerse the batteries into water,which can protect and enhance the batteries life.

▶Multiple-uses Portable Shower: Operating at a consistent 0.9gpm, the electric portable outdoor shower offers gentle and comfortable stream. Suitable for INDOOR/OUTDOOR showering, camping, BBQ, hiking, traveling, kid bathing, pet cleaning, car washing, plants watering.

▶Easy Assembly and Operation: Just fully submerse the pump in your bucket/tub of water and turn the motor on,it will pumps water from bucket into steady, gentle shower stream and you get a nice flowing shower.

▶Rechargeable 2200mAh Lithium Battery: Direct charge from USB port, car adapter or computer, laptop via 5V USB charging cable provided. Full charge allows up to 45 min of continuous use. Battery can be attached to the water pipe instead of thrown to the ground randomly.

▶100% WATERPROOF Portable Shower for Camping: with USB Charging Cable, Hose, Showerhead, Suction Cup & Hook Attachment w/ Water resistant shower spray,the best camping gear you can think of wash you can use as sinks for camping, The perfect use for outdoor shower tent or RV's

Just Add Water and Enjoy a Nice Flowing Portable Shower for Camping
You turn on the pump and drop it into a bucket or sink of water and it will pump 4 liters of water a minute or about 1 gallons per minute, the water pressure is stronger than other 2.5L/min shower head. A fully charged battery will pump water for about 45-60 minutes. Don't forget to insert the O-ring,or it will leak water out.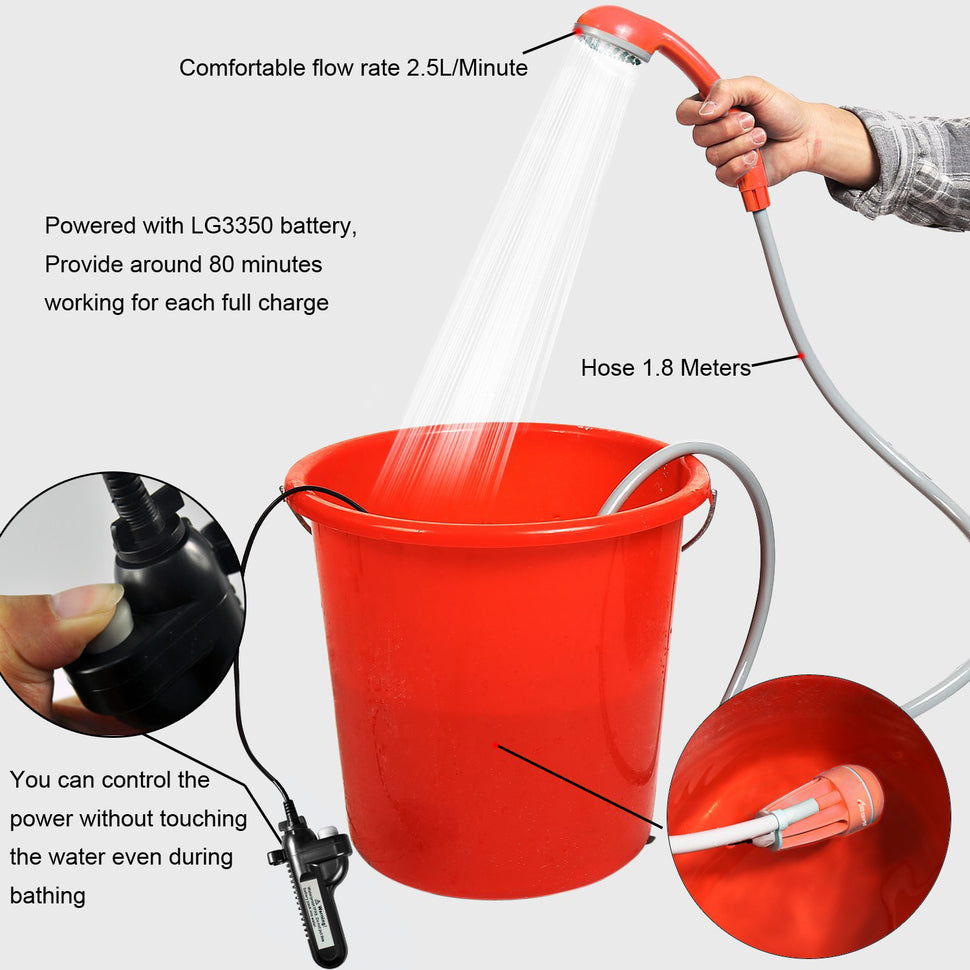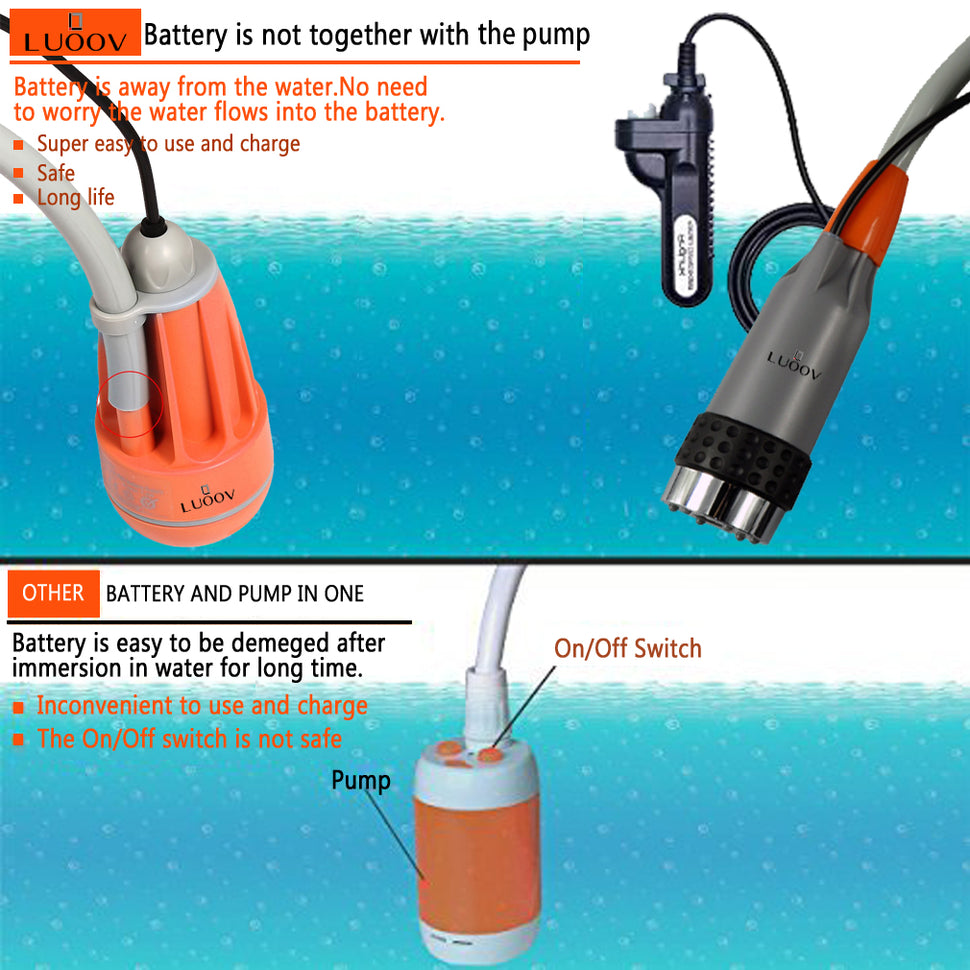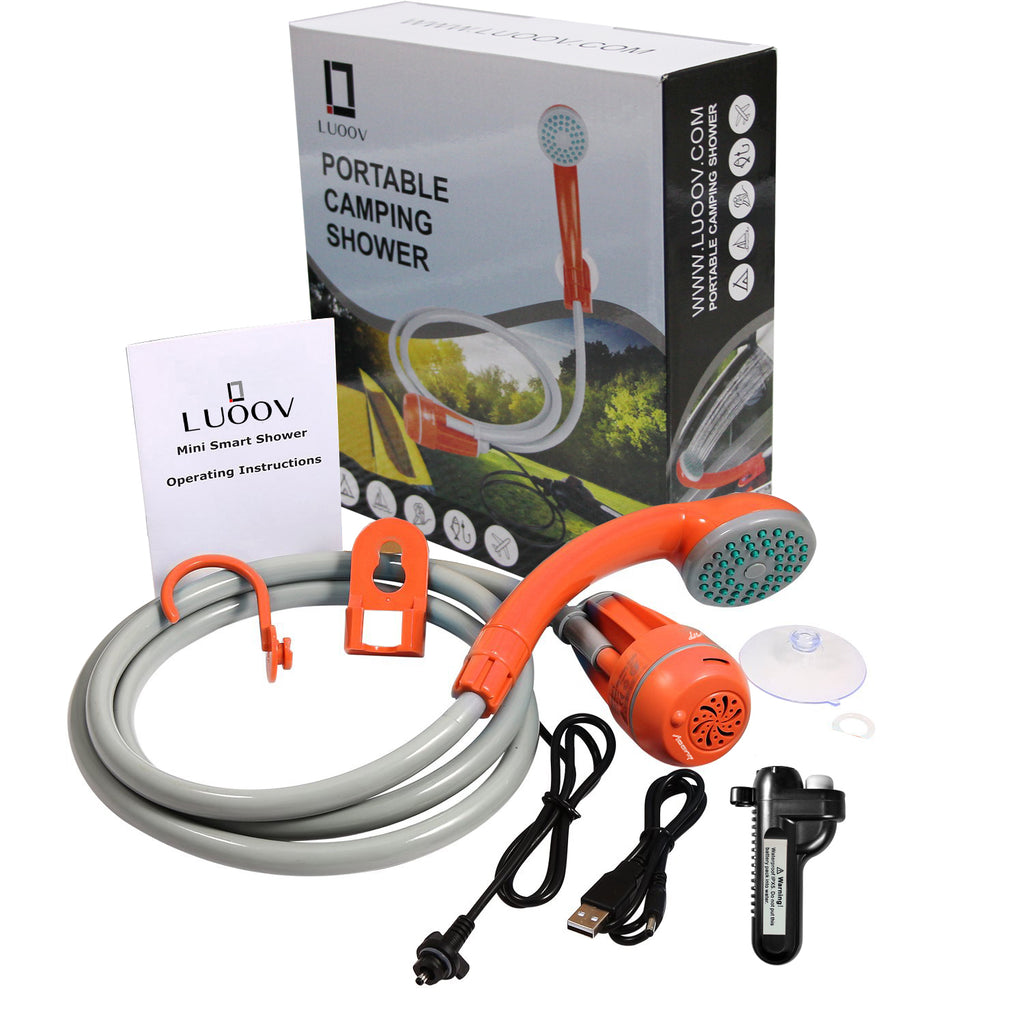 Attention:
The batteries is not waterproof, please do not drop the batteries into the water.

Product Specifications:
Volt: 3.7V
Max Electric Flow: 2.6A
Water Flow: 4L/Min (1gal/min)
Battery Capacity: 2200mAh
Using Time: 45-60min
Hose: 5.9ft
USB Charging Cord: 2.6ft
G.W.: 1.6lb
Charging Time: 2-5H (Depend on spec. of different charger)

Package Included:
1 x Shower Head
1 x Shower Pump
1 x Hose
1 x 2200mAh Batteries
1 x USB charging cable
1 x Shower Head Bracket
1 x Suction Cap
1 x Hook
1 x User Manual
---
Must buy.
I love it! My shower was broken for a while. My landlord keep putting off to fix it, so I tired of asking. I did my research and I give it a to out of ten.
Awesome product
This works great! Nice water pressure and has been a life saver.
It's great
Have been using a bucket and pot for washing at camp for 40 years until I found this. It's a game changer. I love it. We all do. Put it in the bucket and away you go.
Simply Thrilled!
I LOVE this portable shower!! I am simply thrilled at the strong flow of water that it's capable of emitting and it also comes with a control setting. You can't beat that. It's the BEST!
I love the two speed settings
Works really well! The charge seems to really last. I love the two speed settings, although the higher of the two uses up water a lot more quickly so make sure you have enough water to pull from.